Transform Your Kitchen & Living Room
Prior to 2000, most Ottawa homes were built with segmented living areas. Whether they are turn-of-the-century homes in the Glebe or 1980s production houses in the suburbs, the entrance, living room, dining room, and kitchen are all separated by walls. With walls in your way, it's hard to keep an eye on the kids or be part of the conversation when entertaining guests. Older homes have rooms like parlours and salons that sit unused and rob square footage that would be better used elsewhere. A popular solution to this space cramp is to knock down the walls to create an open concept living area.
We will take a dated home and bring it to the forefront of contemporary style and elegance with a stunning open concept renovation. Not only are the finishes absolutely breathtaking, but you can rest assured that the entire renovation is structurally sound and built to last.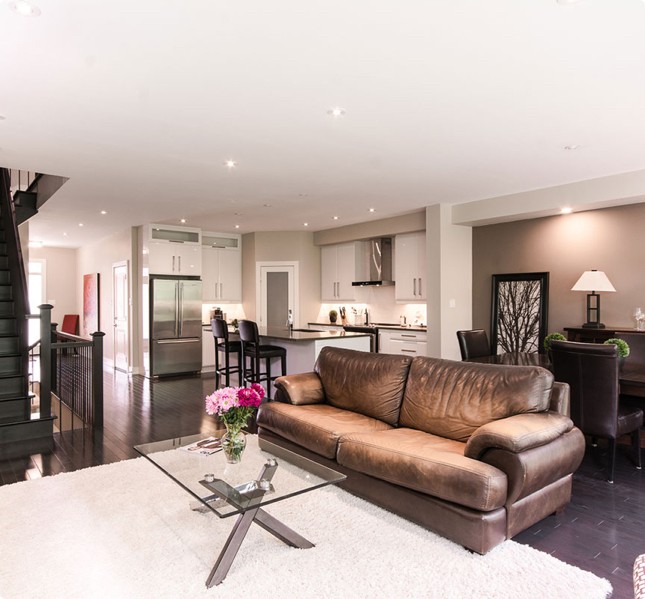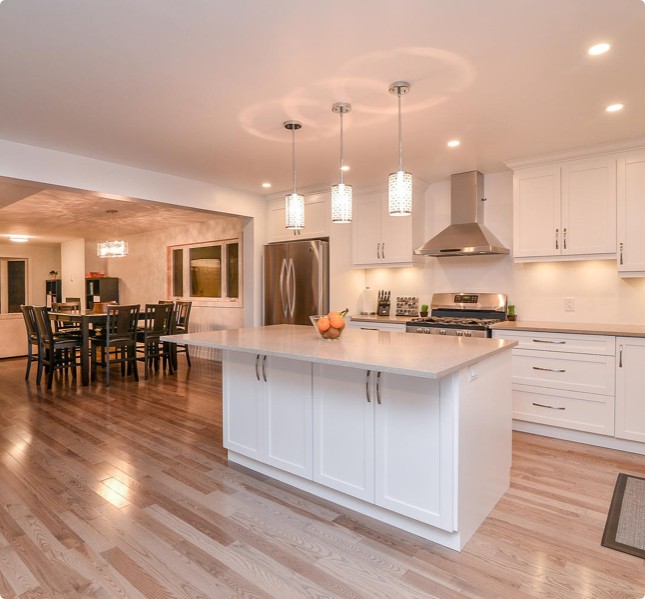 Open Concept Creates Value & Enjoyment
During your consultation, ask our team about some of the key choices you can make during an open concept renovation, including:
Recessed lighting / pot lights
Ventilation placement
Removing walls
Flooring
Placement of electrical work and outlets
One of the most popular places that homeowners look to start their open concept renovation is in the kitchen. Removing walls and opening the kitchen up so that it flows into the sitting area or dining area is a great home renovation choice as it allows the natural lighting from the main floor windows to flow into all living areas of the main floor. It also allows for great entertaining options as you can prepare meals for guests while still maintaining visual sightlines with them.
Working With Holland Homes And Renovations
Having served numerous Ottawa homeowners over the years, we've been able to create and improve upon a design and construction system that is proven to deliver superior results. From consultation and design to execution and quality control for handover, Holland Homes is well equipped and experienced to build the custom home or home renovation/addition that you desire.
View Some Of Our Favourite Projects
& Imagine What We Can Create
What Clients Are Saying About Holland Homes
Holland Homes and Renovations exceeded my expectations.  Renovations always come the surprises. Rob and his team were always clear and upfront about costs and most importantly were clear from the start at informing me where I might expect unanticipated costs and provided a variety of options to choose from when issues did arise.  It was truly a collaborative and personalized experience working with them in developing a creative and stunning space that met my needs and aesthetic vision.  I would not hesitate recommending them!
We interviewed dozens of contractors as we planned a significant addition and large scale remodel to our nearly one hundred year old Westboro home - and every day that the project continued we became happier and happier with our decision to engage Holland Homes and Renovations. Whether it was the day that live knob and tube wiring was found buried in our walls or the day we learned that a previous renovation had simply decided that minor details like 'header beams' could be ignored as they ripped out walls, the calm confidence of the Holland team kept my wife and I from any number of anxiety attacks. The results? Spectacular. The project? On time (despite Covid related supply chain issues). The budget? As expected. I don't often provide recommendations - but I whole heartedly recommend Holland Homes to anyone planning their own major project.
We can sincerely and without hesitation fully endorse Holland Homes & Renovations to anyone considering a home renovation project in the Ottawa area. The Holland team is a highly-skilled, organized and professional operation at all project stages, from the initial design discussions through to the finishing touches. Company President Robert Breau and Project Manager Scott Wammes are a pleasure to work with and always available for consultation.
I would recommend Holland Homes & Renovations extremely highly. The company completed a relatively small renovation for me. It came in at exactly the cost quoted and better than 'on time' - before time. The quality of the work was exceptional. I was super impressed with the quality of the staff - they were polite, considerate, careful and completely respected and protected our property. No detail was too small to attend to. The owner regularly dropped by to make sure the project was progressing as planned - and to our satisfaction. This firm is a top notch renovator & completely reliable. It was a pleasure to work with Holland.
Right from the start Holland Renovations was a pleasure to work with. The project team was incredibly hard-working, diligent and worked to a high standard. They were quick to respond to any questions or concerns that we had along the way and were always upbeat, friendly, professional and a pleasure to have around. We are still in awe of how Holland Renovations have transformed our basement into a very pleasant, bright, full height living space for our family. Holland Renovations adds a personal touch to their projects and we would gladly have them back for any future project.
After meeting with several contractors and getting a few quotes, it was clear to us that Holland Homes was the company for us. Robert was honest, straightforward and entirely responsive to our budget, questions and concerns. Scott and his team were skilled, hard working and very pleasant. Because ours is an old home, and because we had several suppliers outfitting our new custom kitchen, we had a few glitches along the way. However, what impressed us most is that Robert and Scott worked with us and through everyone of them. The end result is that our new kitchen, bathroom and family room are absolutely stunning and we are enjoying them tremendously!
We had a great experience with Holland when they built a large addition at our home. Robert and Scott were always available to answer questions and to come up with creative solutions to some of the inevitable issues that come up when renovating an older home. Most importantly, the project came in on time and on budget and we are very happy with the result! I would not hesitate to recommend Holland.